The Diary of my Insomnia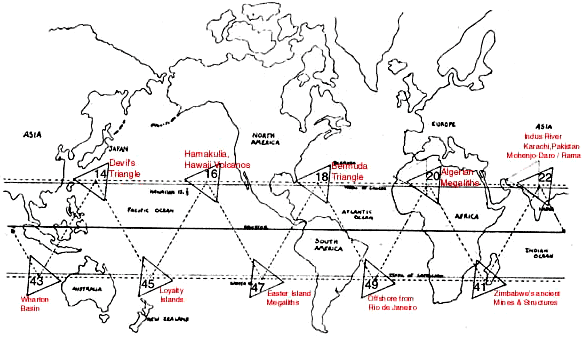 Figure 1:
Vile Vortices Overview –  from Ivan Sanderson's 1972 article in Saga magazine,
"The Twelve Devil's Graveyards Around the World"
plotted ship and plane disappearances worldwide,  focusing attention on 12 areas.
Is the earth a gigantic crystal that resonates at 7 Hz with harmonic focal points at specific equidistant points?

One of the best summaries is "Anti-Gravity and the World Grid" by David Childress.

The Bermuda Triangle & Japan's Devil's Sea are considered anomalies, where unexplained phenomena occur, such as disappearing ships & planes, & radios & compasses that stop working.

Why are ancient Megaliths placed at specific equidistant points, such as Mohenjo-Daro, Cairo, Peru, Easter Island, Zimbabwe, and Borneo, to name a few. Why are Positive Energy Vortices, such as in the Himalayas, Sedona (AZ), & the Incan culture situated where they are?

If the Earth is mapped out…
View original post 13,072 more words